Removing Background from Photo for Perfect Product Presentation
eBay is a major e-commerce platform today. Many companies and private persons sell and buy stuff on eBay. The key feature of this platform is that it provides many convenient options to start selling online even for a very beginner. You should merely create an account, upload product photos and description and promote your page.
And here is where many newbie sellers experience difficulties. Home-made photographs of their products simply are not presentable enough to attract buyers. Publishing product photos with messy or inappropriate backgrounds significantly takes the shine off the goods you sell.
What are your options then? The obvious solution is to remove the background from photos of your goods on eBay to make them look more selling. Alas, not all of us are Photoshop savvy, and a seemingly simple procedure ends up in hours of pixel-hunting and rugged, coarse lines as a result.
A Simpler Way to Remove Backgrounds
Here is a way to accomplish the same task if you are lack of any designer skills. PhotoScissors software comes to the rescue! A tool designed to be as simple as possible helps removing backgrounds from pictures in virtually 2-3 minutes. Here is a step-by-step guide to deleting product image backgrounds for publishing on eBay.
Step 1: Open the Product Image
Run PhotoScissors and load the desired product image to the program. The tool supports images in all basic formats, and isn't limited with sizes and resolutions.
When you will open the image, PhotoScissors will automatically removes background from it.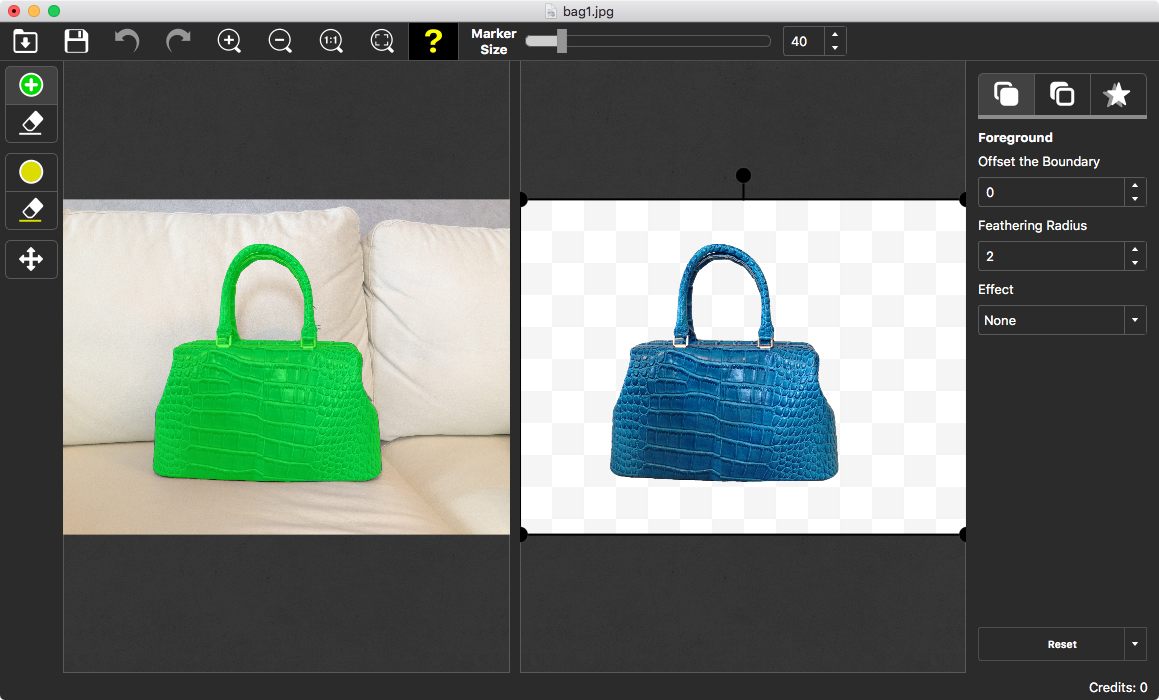 You can correct the result using green marker or eraser. Note how the preview window instantly reflects all changes you make.
Small details may require special attention. Choose a smaller brush size of the marker and make necessary corrections to the picture. You can either add to the foreground with the green marker, or subtract from it with the eraser. Stay within the contours of the foreground object when drawing marker strokes, otherwise the result can be unsatisfying.
Step 2: Save the Resulting Picture and Publish it on eBay.
Now simply save the resulting image with the background removed and publish it on your eBay account! Note that you can save as a PNG image (transparent background), or as other picture formats including JPEG. In the latter case, the background is solid color.
TIP: Make sure you set white or any other color as background before saving, e-Bay doesn't support transparent background and shows transparent background as black.